Welcome to Global Internet Symposium
The Global Internet (GI) Symposium is the flagship event established and organized by the Internet Technical Committee (ITC), a joint committee of the IEEE Communications Society (ComSoc) and the Internet Society (ISOC).
The 19th IEEE Global Internet Symposium will be collocated with IEEE INFOCOM 2016. All relevant dates, location, and travel information are available from the IEEE INFOCOM 2016 conference site: http://infocom2016.ieee-infocom.org/.

The IEEE Global Internet Symposium aims to provide a top forum for researchers and practitioners to present and discuss advances in Internet related technologies. The focus of the symposium is on experimental systems and emerging future Internet technologies, and especially on scaling such systems to a global scale. Research on understanding Internet protocols, services, and applications at global scale is also encouraged. The Program Committee also welcomes position papers (which should be clearly marked as such).
Topics
The topics of interest include, but are not limited to the following:
Routing, switching, and addressing
Resource management and quality of service
Software defined networks and network programming
Content delivery and management
Energy awareness
Next generation network architectures
Distributed Internet applications including games, VoIP, and video conferencing
Online social networking
Peer To Peer networks
Novel applications and new paradigms
Internet measurement, modeling, and visualization
Large scale network operation and performance monitoring
Privacy and/or security issues on the Internet
Anomaly, intrusion and attack detection
Interface among networking, communications and information theory
Applications of network science in communication networks
Economic aspects of the Internet
Important Dates
Paper submission: December 22, 2015 December 31, 2015 [Extended]
Notification of acceptance: February 8, 2016
Final manuscripts due: TBA
Symposium: April 11, 2016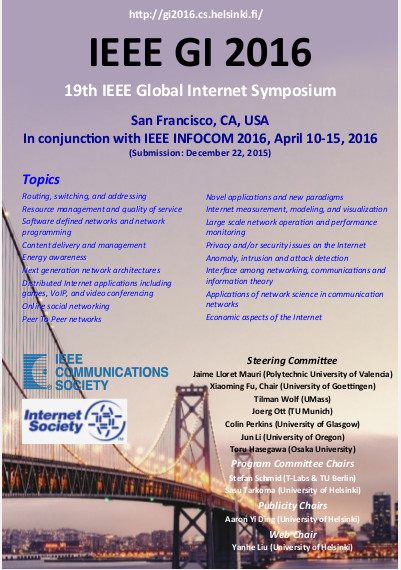 Latest News
Program Updated
March 21, 2016
Deadline Date Changed
Dec. 23, 2015
TPC Announced
Nov. 18, 2015